Please Contact Us to book a clinic. One and two-day clinics available. Contact for pricing.

Lorie Duff Liberty Lane Farm Horsemanship and Liberty Performance Calgary Stampede
July 7, 2017 @ 8:00 am

-

July 17, 2017 @ 5:00 pm
Event Navigation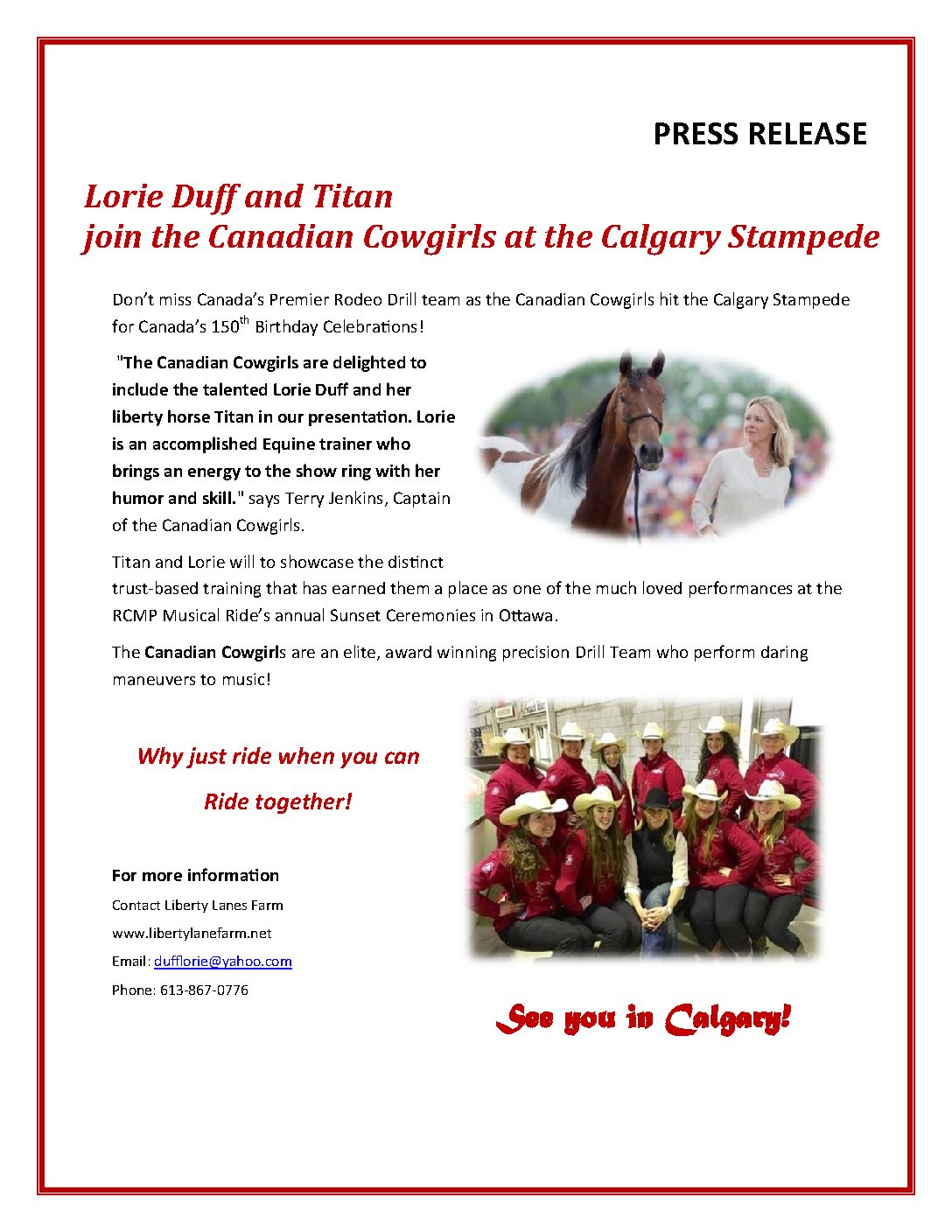 Lorie and Titan will be Co staring with the Canadian Cowgirls Rodeo Drill Team
Lorie Duff and Titan will bring a "new meaning to Liberty" make sure to join them for the "first ever … drill team and Liberty combo" will be an amazing event !
Lorie Duff Professional Horsewoman owner of Liberty Lane Farm was the first clinician to be invited to showcase her distinct approach to Trust~Based training at the RCMP Musical's ride Annual Sunset Ceremonies in Ottawa. Lorie's Liberty inspired mentoring focuses on creating and growing a strong mental connection between Horse & Human.
Lorie's Philosophy is grounded on Trust ~ Respect. These elements remain a constant across all areas and levels of her coaching and training and are grounded in clear consistent communication.
Come out and meet Lorie and Titan during this wonderful family event
The Liberty Performance that will surely not disappoint and will entertain everyone and all ages !
Lorie also will have available during her visit to Calgary Alberta her amazingly great Espana Silk Grooming Products that she "simply can't live without" for all her wonderful performances with her equine partner Titan !
Lorie Duff Liberty Lane Farm is proud to be the Canadian Corporate Representative for Espana Silk Grooming Products.