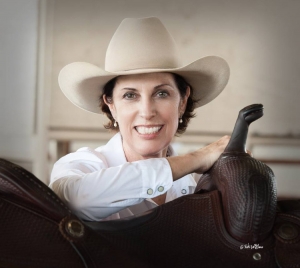 Barbra Schulte is a Professional Cutting Horse Trainer, Personal Performance Coach, Author, Clinician, and Equine Consultant.  Barbra has been involved with horses her entire life. Beginning in early childhood and continuing through college, she helped market and show many of her family's 500 head of horses. She competed in western pleasure, reining, horsemanship, and cutting. She captured the 1988 NCHA Derby, the 1992 NCHA Super Stakes Classic, and the 1992 Augusta Futurity – the first woman to wear the crowns for all three championships. In 2000, Barbra was awarded the prestigious National Female Equestrian of the Year Award given by the American Quarter Horse Association in conjunction with the Women's Sports Foundation. In 2012 Barbra was inducted into the National Cowgirl Hall of Fame, one of the most prestigious honors possible for women equestrians. She was honored for all of her outstanding career accomplishments.
About Barbra and Lorie's friendship;
"Lorie is an exceptional horse woman who communicates beautifully with horses and people, alike. One of her most glowing gifts is her gracious and generous spirit. If you can spend time with Lorie in any way, I highly encourage you to do so." ~ Barbra Schulte
Lorie met Barbra in January 2016, in what would start as conversations and collaborations for  a "Weekend Symposium" in Ontario, Canada with Lorie hosting the "First Ever All Canadian Coaching Symposium" would turn into life changing events for all involved.
"Read more here about the event: new article" 
"Barbra Schulte Symposium youtube video "