Melanie Gray and Lorie Duff Clinic
Western Rider Level Testing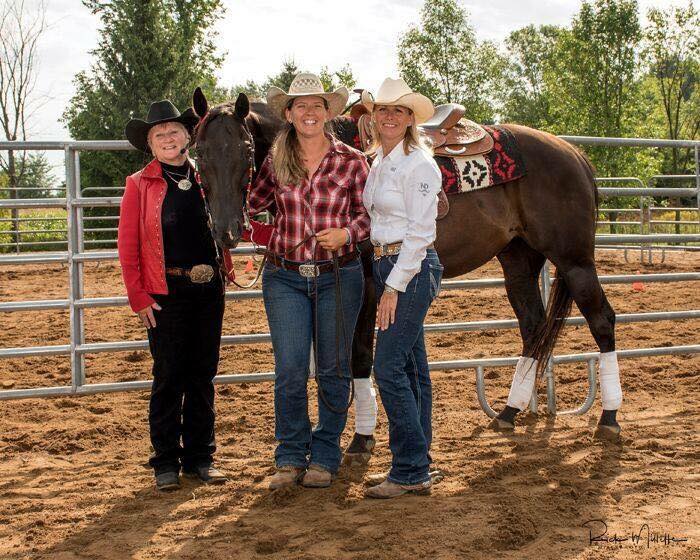 Cost:
$255 for the clinic
$25 per Rider Level Test
Stalls are available on a first come first serve basis for a fee.
Address:
2545 Norton Road South Mountain Ontario
2545 Norton Road South Mountain Ontario
This clinic was scheduled to take place on May 12 and 13 2018.  Unfortunately, due to personal circumstances, Melanie was unable to make it.  Our hope is to have this clinic in the fall of 2018.  Please keep checking for the re-scheduled dates.
Join us for a full weekend of intense work, riding, learning and mentoring with Lorie Duff and Melanie Gray!
Deposits are $127.50 plus testing fees (separate fee ) e-transfered to dufflorie@yahoo.com before the start of the clinic is the only way to garuntee your spot in the clinic. When you send the e-transfer, please add in comments section to tell us what levels you wish to test "level 1 or level 2" or both so we can create a schedule.
This clinic isn't just about the Western Rider Level tests.  Everyone is welcome to participate fully in the clinic as well. Preference will be given to the riders that would like to do their Western Rider Level tests.  All participants need to be current OEF (Ontario Equestrian Federation) Members.
Melanie and Lorie will work side by side everyone individually to advance your riding and prep you for testing on Sunday afternoon.
There are very limited spaces as we are very lucky to get Melanie for the full two days. She's an extraordinary coach mentor and an amazing woman to learn from! Lorie has mentored with Melanie for over 15 years and still to this day, credits Melanie for some of her biggest accomplishments in my equine career!
You will need your rider level books to study for your written test & riding test (someone from our team can pick them up for you at EC offices) for a small fee and have them ready for you prior to testing.
Here is the link for anyone interested in the programs and details of testing, as well as fees for testing. Please note fees per test are seperate from the clinic fee.
https://ontarioequestrian.ca/programs/learn-to-ride/
https://www.equestrian.ca/programs-services/coaches/become-certified
Please note
You will have to contact Nicole Burchill to book stalls (Limited stalls avail fees to be paid directly to Norton Ridge Stables) and make arrangements with her farm to trailer in and out … there is an option to do that for both days as well
Please contact Lorie via email dufflorie@yahoo.com or phone 613-867-0776 to book you spot.