Lorie Duff Horsemanship
"Learn to Ride Together"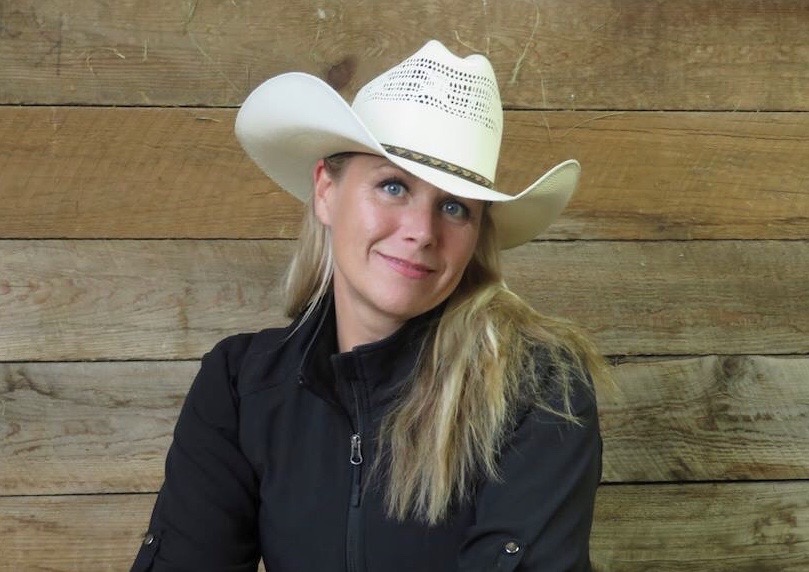 Lorie's Biography
Lorie Duff is an Internationally renowned Canadian Equestrian Trainer & Clinician, a Canadian Provincial Equine Judge, Equine Business Consultant & Motivational Speaker. 
Lorie was born and raised on a scenic dairy farm overlooking the ocean in Topsail, Newfoundland. Lorie credits her parents and "the simple farm life" to how she developed her Philosophy of Horsemanship.
Some of Lorie's accomplishments were winning numerous Newfoundland Equestrian Association championship titles in several equine divisions. Lorie also received both horsemanship & sportsmanship awards.
Lorie's philosophy of communication, trust & respect helps establish a safe and solid inter-disciplinary platform that will support and enhance the continued mutual learning of humans and horses that work together. She takes great pleasure in the success of others and considers this her only true gauge of her own success, which has taken her throughout North America & Europe teaching her philosophy.
One of Lorie's greatest recent achievements was to be the "First Ever Western Performer" invited to the RCMP Sunset Ceremonies for 2 consecutive years to showcase the western discipline and to demonstrate her horsemanship Philosophies. Lorie was invited to showcase her distinctive approach to trust based horsemanship training with her horse Titan.  He was an eloquent testament to Lorie's trust based training and by far, the youngest horse at the show. Titan remained at Liberty and on task in an unfenced area for the duration of their performance. Back stage, he was unfazed by the fire arms demonstrations, lights, sirens, police dogs and bomb squads. Thousands of spectators enjoyed Titan's performance.
Other Equestrian Accomplishments:
Clinician & Demonstrator at the 2016 Can-Am All Breed Expo, in Markham, Ontario

Live Liberty Performances during the 2017 Calgary Stampede

Represented Canada as a competitor in the 2018 Gobi Desert Cup Endurance Race in Mongolia
Lorie has appeared in several segments on " CTV Morning News Live" in Ottawa, Ontario promoting her horsemanship and local equestrian events.
In 2017 Lorie co-produced a film called "Humble and Kind", which showcases Lorie and her Liberty horse Titan. It focuses on their learning path through Lorie's philosophies. This film was nominated for an award in the Best Short Film category at the Equus Film Festival in New York City!
She is currently focussing on expanding how she reaches her clientele and writing a book called "How I Got There". Stay tuned for a video series to be released in 2020.  Lorie also is featured this year, in the 2020 Art of the Horseman, Because of the Horse online fair, as a headlining Canadian Clinician.  
"  I have worked with several different trainers, and educators throughout the years. I am always searching for an understanding, always trying to find a "better way". The training I have obtained over the years helped me develop and create my own philosophy for how I want to work with horses. Communication, trust and respect are key for success.

I have always wanted a better relationship, a more willing partnership with my horses.  I think you develop your skills over time but only as you keep educating yourself.  I am continuing to always evolve as a trainer and an educator."
Lorie has studied the methods of many horsemanship trainers and continues to educate herself.  The countless hours spent improving her horsemanship and training skills combined with having an open minded approach to training has given her an insight into how horses think. In 2007, Lorie re-located to Ontario where she started Liberty Lane Farm (located just outside Ottawa area) and continued on her path of refining her training methods.
Lorie takes pleasure in the success of others and considers success in helping others her only true gauge of her own success.  She has become a mobile unit; traveling to her students and clinics so she is able to help as many people as she can.
Lorie Duff Horsemanship
 "Ride Together"
Starting a Horse with a great Foundation
One of Lorie's favourite things to do is start young horses under saddle.
Preparing young horses for work under saddle.  Lorie teaches horses to be soft, responsive and balanced before being backed.
When horses have completed the Starting Groundwork, and are ready to begin working under saddle, Lorie carefully takes horses through this process, making it a calm and positive experience.
Liberty Horsemanship
Liberty is a true bond between horse and handler.  Lorie teaches Liberty Horsemanship to help her students master the elements of groundwork.
Teaching Groundwork
Many struggles people face when working with horses can be improved from the ground.  I teach people to understand their horse from the ground using clear, confident communication.
So Called "Problem Horses"
Bad habits, bossy attitudes and spooky imaginations can make time spent with horses challenging.  Learn what to do with horses who are presenting behavior that many would associate as "Bad". Lorie has several tools to help horses and their owners overcome many common challenges.
Lorie can help horses who have been poorly handled, have formed dangerous habbits or have proved to be difficult to train.  Lorie has had the opportunity to work with a variety of people and their horses in many situations, including breeding stallions, ponies, school horses and elite show horses. Lorie has taken the problem or the challenge and worked to offer solutions to each individual, working specifically to help each and every client.  Taking the time and effort to do the best for the horse and owner.
Creating a happy partnership with humans means horses have to learn how to behave around us.  Lorie helps owners teach and maintain a horse's manners.
Western Riding Coach
Lorie is an accomplished rider and competitor.  Anyone, from adults to children benefit from her lessons. Lorie has had the chance to work with a variety of people and horses, in several disciplines.