A Journey
Lorie was born and raised on a scenic dairy farm
overlooking the ocean in Topsail, Newfoundland.
Lorie credits her parents for "the simple family farm life" to how she developed her Philosophy of Horsemanship. Lorie now resides just outside the Ottawa area, in a rural country setting, home of Liberty Lane Farm, a private training facility
. 
Lorie's philosophy of horsemanship is based on communication, trust & respect which helps establish a safe and solid inter-disciplinary platform.  The philosophy supports and enhances the continued mutual learning of humans and horses that work together.  These successes from teaching her program, have taken her throughout North America, Europe & Asia. One of Lorie's greatest achievements was to be the "First Ever Western Performer" invited to the RCMP Sunset Ceremonies for 2 consecutive years (2016 and 2017) to showcase the western discipline and to demonstrate her horsemanship Philosophies.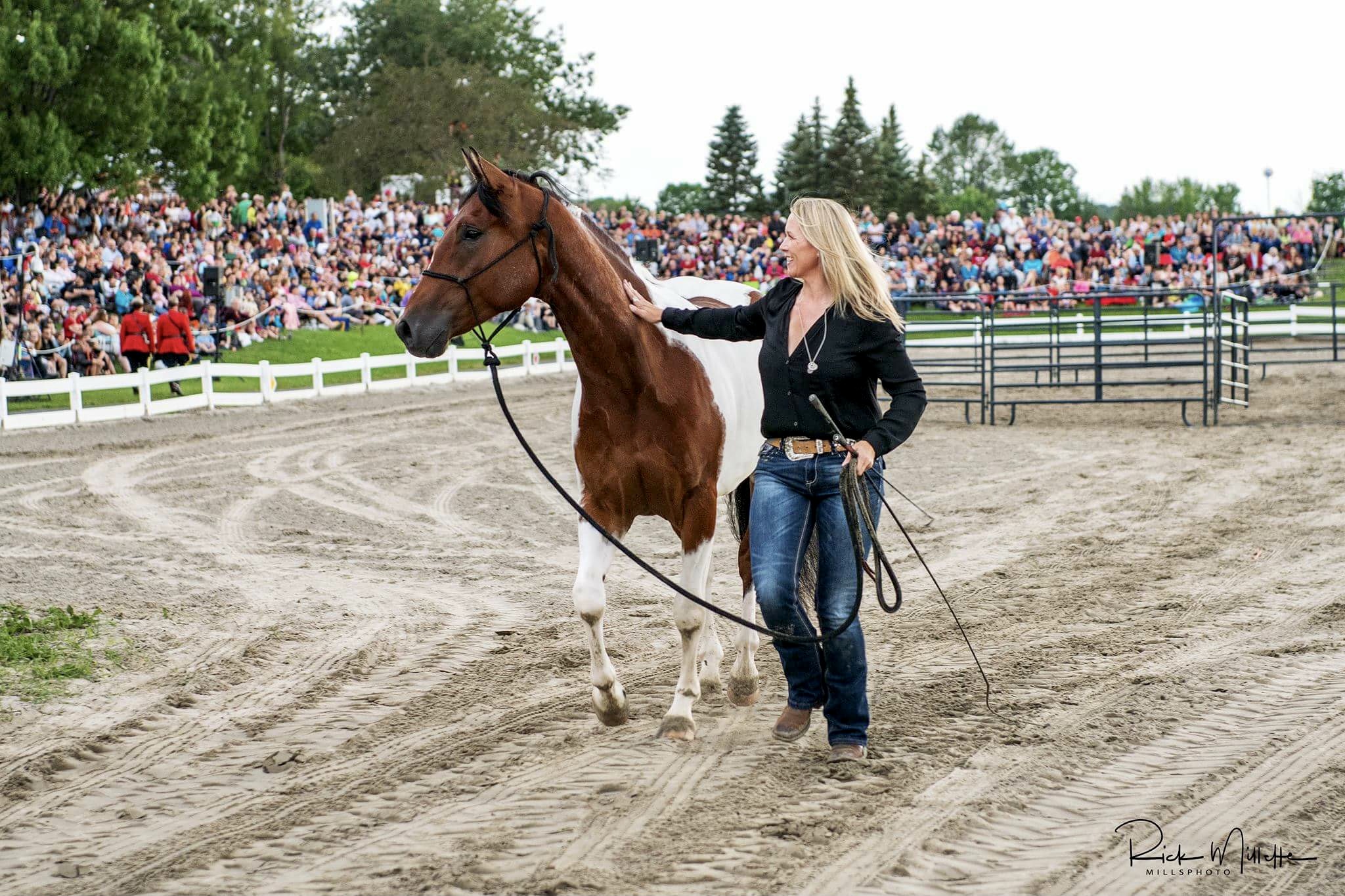 life changing experience
In November of 2014, Lorie woke up with partial paralysis on the right side of her upper body, 3 discs in her neck were all blown. (NOT a Horse accident). Promptly, she was scheduled for an emergency disc fusion, spinal operation. In recovery, Lorie woke and was in a neck brace to stabilize her head and neck. Her recovery was for nearly two years, with many setbacks and struggles along the road. Completely demobilized for several months, looking out the window wondering if she would ever ride again. Lorie never gave up, but the journey back, was deeply emotional.
"During my horsemanship clinics I now say "never look back, we can't change the past. We can't change the horses past either, but we can change their future. So think about their future, and think positive."  Today I am so grateful for my family, my friends, my horses and my love and what tomorrow will bring. It was what kept me going."  Lorie is currently focusing on expanding how she reaches her clientele. Travelling, across North America as a clinician, Lorie truly enjoys helping others, by sharing her stories, and experiences.
A better way
Lorie is in the process of writing an autobiography, "How I Got There, the Journey of a Horsewoman". This started her love and passion to become a freelance journalist and opening her up to creating the "Cowgirl Channel of Canada, The Way of the Canadian Cowgirl" YouTube Channel, based show featuring cowgirls from all across Canada, from women in the farm and ranching industry to women in arts and entertainment.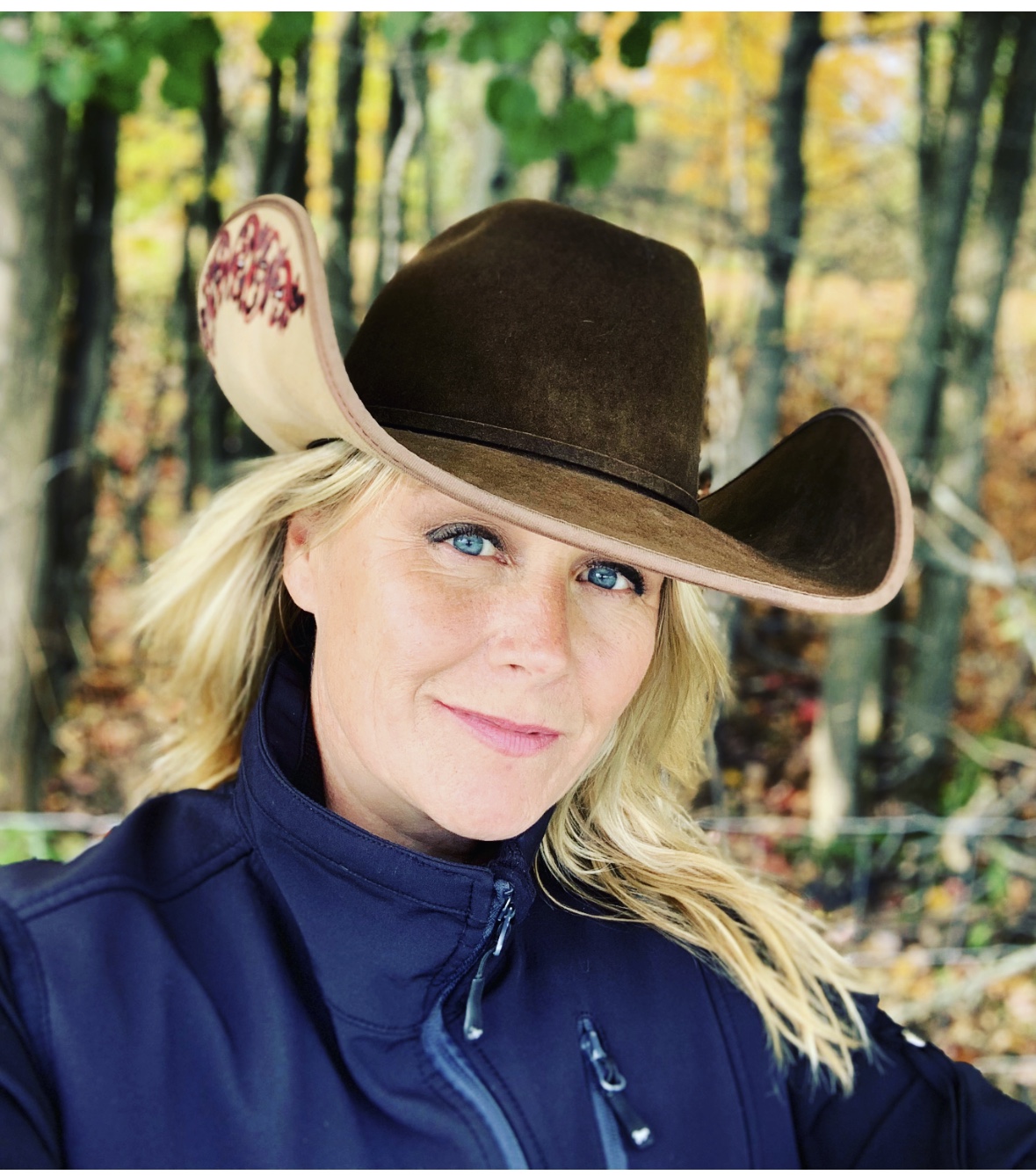 2004 – Equine Sportsmanship Award.
2005 –  Achieving Champion in; Senior Western Equitation, Trail,  Reining, Freestyle Reining.
2006 – Volunteer of the Year.
2010 – Equestrian Canada Western Rider Level Program completed.
2016 – Equestrian Canada, Western Intermediate Rider-Basic Training Certificate.
2016-  Equi-Health Canada Certificate of Completion, Basic Equine Health and Emergency First Aid.
Liberty performance 2016 and 2017 –  RCMP Sunset Ceremonies Award for Liberty Horsemanship Performances. 
2017 – Calgary Stampede Liberty Performer
2017-  Lorie co-produced a film "Humble and Kind" This film was nominated for an award in the Best Short Film category at the Equus Film Festival in New York City.  
2018 – Sportsmanship Award, Endurance Race, Mongolia. 
2018 – Represented Canada in Mongolia, for an endurance race, 500 km for the Gobi Desert Cup. 
2019 – Western Horse Association of Ontario – Junior Provincial Equine Judge. 
Equestrian Canada Certificate of Achievements; July 2021 – Concussion Awareness. – Certificate of Achievement Equestrian Canada, Fostering Healthy Equestrian Environments. 
2022 First Canadian Female Judge, for the "Trainers Challenge" Horse Expo Canada.
2022 Canadian Clinician Equine Affaire Massachusetts USA.

 
During a personal difficult time in 2018, I was given an opportunity of a lifetime. I got to represent Canada and travel to Mongolia to race in an endurance competition  in the Gobi Desert.
What a life changing experience. Mongolia and the Mongolian horses, the country. The race itself was an overwhelming challenge, 500 km and a different horse each day for the 5 days. The unforgettable moments. The friendships, and bonds with horses was worth everything. Would love to do it all over again someday.
.
Enjoy Life !
 "I am always searching for an understanding, always trying to find a "better way". The training I have obtained over the years helped me develop and create my own philosophy for how I want to work with horses. Communication, trust and respect are key for success. The countless hours I've spent improving my horsemanship, combined with having an open minded approach to training and teaching,  has given me an insight into how horses think, and how the human learns."Lorie travels across Canada, USA and into Europe and continues to consistency learn from the greatest teacher she has always had, THE HORSE.