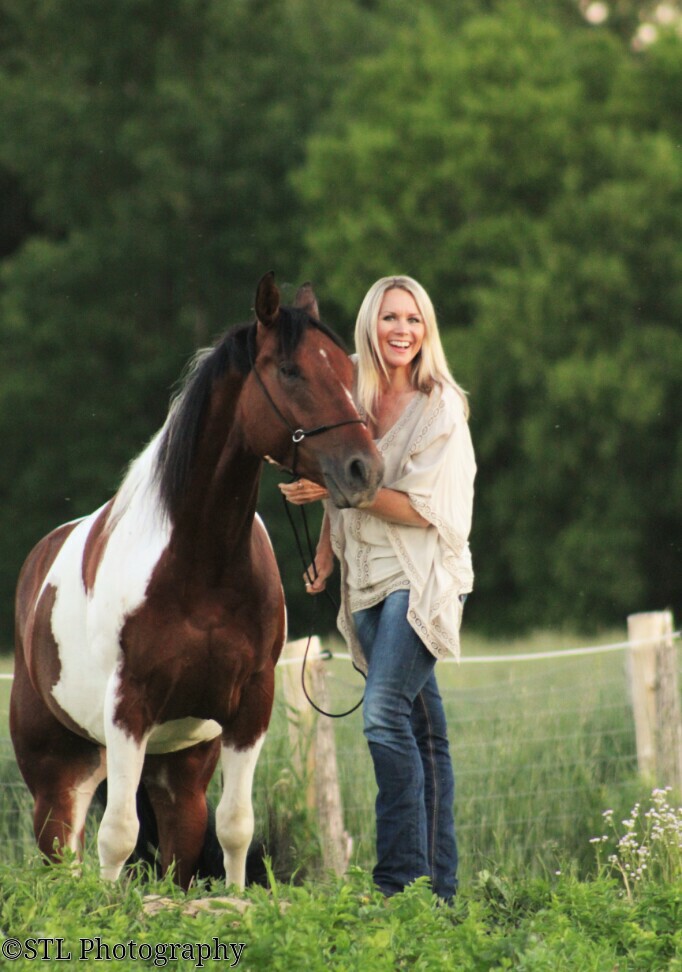 Lorie's Biography
Born and raised in Newfoundland, Lorie's first exposure to horses and riding was on her family farm, on a horse names Queenie.  She and her sister rode Queenie bareback around the farm. From there, she did a lot of trail riding with friends in Nagel's HIll, then later in her 20's she took formal riding lessons at Avalon Equestrian Center
Lorie has held Newfoundland Equestrian Association Championships in 5 different Western divisions; Equitation, Command and Trail, Reining, Freestyle Reining, and Western Riding Pattern and has been the recipient of the NEA Showmanship and NEA Sportsmanship award. As a committed volunteer she has served on the Strategic Planning Board of Equine Canada's Recreation Division, on the Board of Directors of the Newfoundland Equestrian Association and as Chair of the Newfoundland Equestrian Championships and Newfoundland Horse Week Show Case.
Lorie's career on the show circuit was gaining momentum when she suffered a devastating spinal injury. While the injury did not involve horses it did force her to reassess her entire career with horses. However, rather than scaling back Lorie fought back, choosing instead to completely restructure how she worked with horses.
"  I have been working with several different clinicians, trainers, and educators throughout many years, and I always kept searching for more understanding, thinking there has to be a better way. With all the training I have obtained over the years I ended up creating my own philosophy for how I wanted to work with horses.

I have always wanted a better relationship, a more willing partnership, so as I grew in the industry. What I do is not so different from many other horseman and horsewoman. I think it develops over time but only as you keep educating yourself  I have had many different experiences so I am continuing to always evolve as a trainer and an educator."
Lorie has studied the methods of many horsemanship greats such as Buck Brennaman and Barbra Schulte through clinics and continuing personal communication.  The countless hours spent improving her horsemanship and training skills combined with having an open minded approach to training has given her an insight into how horses think. In 2007, Lorie re-located to Ontario where she bought Liberty Lane Farms and continued on her path of refining her training methods.
Titan was born at Lorie's farm.  When he was barely 3 years old, Lorie was invited to showcase her distinctive approach to trust based training at the RCMP Musical Ride Sunset Ceremony in Ottawa.  Titan was an eloquent testament to Lorie's trust based training. He was, by far, the youngest horse at the show. Titan remained at Liberty and on task in an unfenced area for the duration of their performance. Back stage, he was unfazed by the fire arms demonstrations, lights, sirens, police dogs and bomb squads. Thousands of spectators enjoyed Titan's performance.
Since that first performance with the RCMP, Lorie has been to the Can-Am Horse Expo in Mississauga as a featured demonstrator, to the Calgary Stampede as a guest performer of The Canadian Cowgirls Drill Team and as a featured demonstrator.
Lorie's work establishes a safe and solid interdisciplinary platform that will support and enhance the continued mutual learning of humans and horses that work together. Whether you are in the show ring or new to the horse world, trust and communication will remain a constant as you work together.
Lorie takes pleasure in the success of others and considers success in helping others her only true gauge of her own success.  She has become a mobile unit; traveling to her students and clinics so she is able to help as many people as she can.
Liberty Lane Farm
Team Of Professionals
Starting Horses
One of Lorie's favourite things to do is start young horses under saddle.
Teaching Groundwork
Many struggles people face when working with horses can be improved from the ground.  Lorie teaches people how.
Liberty Horsemanship
Liberty is a true test of the bond between horse and handler.  Lorie teaches Liberty Horsemanship to her students who have mastered the elements of groundwork.
Western Riding Coach
Lorie is an accomplished rider and cometitor.  Anyone, from adults to children benefit from her lessons.
Problem Horses
Lorie can help horses who have been poorly handled or have proved to be difficult to train.  These horses are only accepted into her training program after careful assessment and with the participation of their owners.
email
dufflorie@yahoo.com